The names of the two little girls are an enduring mystery, their images found among crumpled bodies on
Civil War
battlefields. Each is posed primly on chairs, ringlets cascading past the rouged cheeks of one, the other dressed in a frilly hoop dress.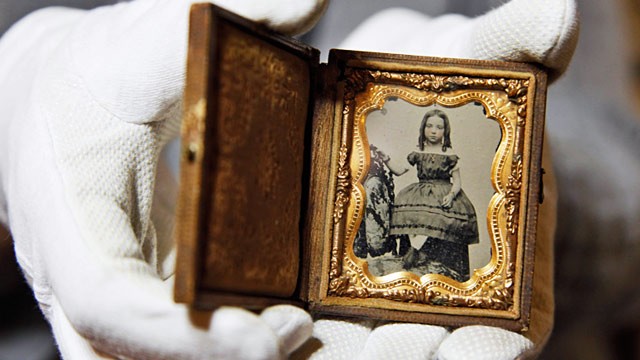 But no one knows the identities of the girls in the photographs, or the stories they might tell.
The photograph of one girl was found between the bodies of two soldiers — one Union, one Confederate, at
Port Republic
, Va., 150 years ago this June. The other was retrieved from a slain Union soldier's haversack in 1865 on a Virginia farm field days before a half-decade of blood-letting would end with a surrender signed not far away at Appomattox.
Though photography was in its infancy when the war broke out, its use was widespread. Many soldiers carried photographs of loved ones into battle and for the first time, photographic images of war were available — and the
Museum of the Confederacy
has its own vast collection of images today, many of them identified.
But now museum officials are releasing the unidentified images of the two girls, along with six other enigmatic photographs, on the admittedly remote chance someone might recognize a familial resemblance or make a connection to a battlefield where they were found.
There is no writing on the backs of these photographs. No notes tucked inside their wallet-sized frames. For a museum that prides itself on knowing the provenance of its holdings, the photographs offer few clues.
"We don't know who they are and the people who picked them up did not know who they were," said Ann Drury Wellford, curator of 6,000 Civil War images at the Richmond museum that has the largest collection of artifacts of the Confederate states, civilian and military. "They evoke an utter and complete sentimentality."
Museum officials can only speculate on the children and adults, including soldiers, shown in the photographs. But whether they were sons and daughters, fathers and mothers, or siblings the prospect of identifying each grows dimmer with the passage of time.
Typically they were found by another soldier and handed down through generations. Ultimately an attic would be cleared or a trunk would be emptied and the photo would be given to the museum. Some have been in the museum's possession for 60 years or more.
Even in its infancy, photography was booming during the Civil War. Photographers were assigned to Northern divisions and traveling photographers were the early version of photo booths as they visited encamped troops between battles and photographed them.
Photography was evolving from daguerreotype to ambrotypes and other mediums in which images were produced through a wet emulsion on glass and were more accessible to a wider audience.
"It had more versatility than it had ever had," according to Jeffrey Ruggles, a historian of photography. "It was the early blossoming of photography. The war just happened to hit at a time when people were very interested in seeing these pictures."
Bob Zeller
, president of The Center for Civil War Photography, said soldiers carrying photographs of wives, children and other loved ones off to battle was common. Finding a photo on the battlefield without a clear connection to a dead soldier was uncommon and highly evocative.