Jurors heard more graphic testimony Wednesday in the trial of former Penn State University assistant coach Jerry Sandusky, including testimony from an alleged victim who said Sandusky threatened that he would be cut off from his family if he told anyone about their sexual relationship.
The 25-year-old man, identified in the indictment as "Victim 10," said Sandusky performed oral sex on him "and vice versa" in the Sandusky home in 1998, when he was in the seventh grade.
"He said if I told anyone, I would never see my family again," the man said. Sandusky then apologized and said "he loved me," the man said, adding that he remained silent about incidents until last year "because I was scared, I was ashamed (and) I was embarrassed."
Although Sandusky's accusers are being identified by name in court,
NBC News
and
msnbc.com
do not identify victims of sexual assaults.
Sandusky, 68, the former longtime defensive coordinator at Penn State, denies all 52 counts alleging that he abused 10 boys over 15 years. Two grand jury reports accused him of having used his connection to one of the nation's premier college football programs to "groom" the boys, whom he met through his Second Mile charity for troubled children, for sexual relationships.
It was the third straight day that jurors in Bellefonte, Pa., heard disturbingly graphic descriptions of Sandusky's alleged pedophilia. Two of the alleged victims testified Wednesday, and three more alleged victims are scheduled to testify.
A 27-year-old man identified in the indictment as "Victim 7" testified that Sandusky, whom he first met in 1995 as a young boy, would grab him around the knees "and then eventually he would move his hand up my leg."
"If I was wearing shorts, his hands would go up my leg towards my groin area," he said. If he was wearing longer pants, he said, Sandusky would reach in and "touch my penis."
Sandusky gave the boy tickets to
Penn State football games
from 1997 to 2000, he said.
The man testified that he didn't tell his story until last year because "it was just something I didn't want my family or anyone to know. I just figured I'll keep it to myself and I get to to go to these games, so I'll push that part to the back of my mind."
A 23-year-old man identified in the indictment as "Victim 5" later testified that Sanduskey exposed himself to him in a Penn State sauna in summer 2001 and afterward groped him as they were taking a shower.
The man said he tried to get away from Sandusky, "but I didn't have anywhere more to go, and I just felt his penis on my back ... and Ii felt his arm move forward, and he touched my area — my genitalia — and then he took my hand and he placed it on his," said the man, who had to stop several times to fight back tears.
The man said he didn't tell anyone about the incident until last year because "I wanted to forget and I was embarrassed."
Defense attorneys spent much of their cross-examination questioning the three men on details of their alleged encounters with Sandusky, part of a strategy to raise questions about whether the alleged victims — some of whom have sued the university or have said they plan to sue Sandusky — are making up their stories for financial gain.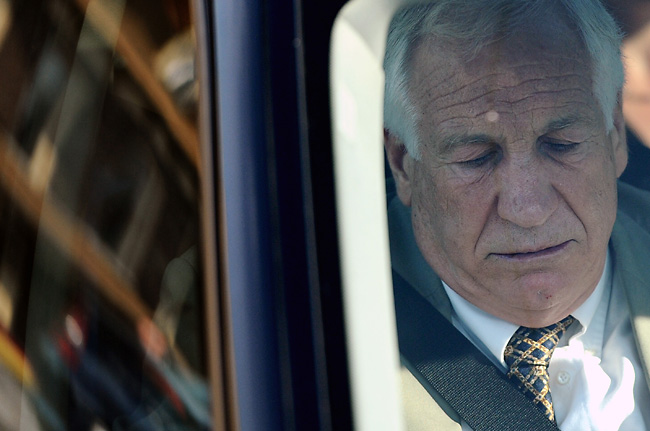 Jurors hear interview
After a conference at the bench, Judge
John Cleland
allowed prosecutors to play the audio of Sandusky's interview last November on the NBC News program "Rock Center."
Sandusky gave no reaction as he heard himself deny the charges aginst him and tell NBC News' Bob Costas that he wasn't sexually attracted to young boys.
Jurors also heard from the father of another former Penn State assistant coach, Michael McQueary, who testified Tuesday that he witnessed Sandusky molesting a young boy in a football team shower in 2001. McQueary said he called his father, the chief executive of a medical group in State College, where Penn State is based, the night of the incident.
Dr. John McQueary testified that he advised his son to inform his immediate superior, head coach Joe Paterno, which both McQuearys said he did the next day.
Michael McQueary testified Tuesday that he had "no doubt" that he saw Sandusky engaging in anal sex with the boy, but his father testified that his son told him that he didn't see any "penetration."
Regardless, John McQueary said, it was "without question ... my conclusion" that his son did see Sandusky committing "a sexual act."
For the second straight day, defense attorneys appeared surprised by developments in the day's testimony.
Analysis: Sandusky defense fails to dent McQueary's damning testimony
Karl Rominger, one of Sandusky's lawyers, began questioning
McQueary
about testimony he gave in Dauphin County, Pa., in December.
But McQueary said he wasn't there, and when Rominger asked him to identify his testimony in the transcript, he said, "I was not in that courthouse to my knowledge."
It seemed a remarkable failure of memory by McQueary about public testimony he gave just seven months ago, perhaps because Rominger mischaracterized the hearing when he first asked about it, calling it "this other grand jury in
Dauphin County
."
McQueary's testimony came not before a grand jury but during a preliminary hearing in the criminal case against two former top Penn State officials, who are charged with perjury in connection with the Sandusky case.
McQueary testified in December that he told his son to inform Paterno and then raised the issue later with one of the indicted Penn State officials, whom he forcefully told that Sandusky had been involved in a "sexual incident."
As Rominger pressed McQueary about the hearing, McQueary repeated that he wasn't there. Cleland then cut Rominger off, saying, "He just said that, Mr. Rominger. Let's go."
When Rominger asked to approach the bench, the judge refused, saying, "He just told you he wasn't there."
The trial, which opened Monday in Centre
County Court
, is the result of months of intense coverage that led to the firing of Paterno, a college football legend who won more games than any other major college coach in history. Sandusky, who was at his side for many of those victories, was for many years presumed to be Paterno's heir apparent.
Paterno died in January, a few weeks after the Penn State Board of Trustees dismissed him for not having done enough to stop Sandusky's alleged abuse.