Serious disturbances ahead of Poland's Euro 2012 clash with Russia in Warsaw on Tuesday night saw 10 people hurt and more than 100 arrested, police in the city have confirmed.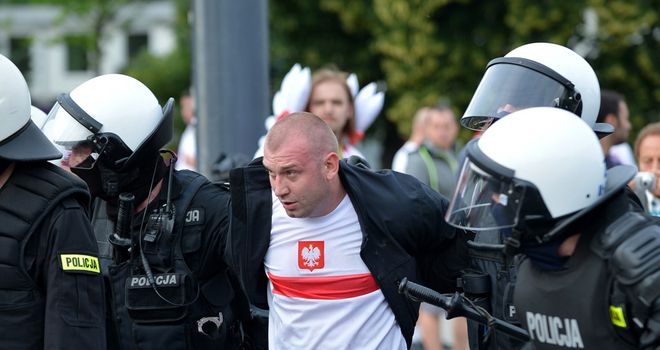 Trouble flared despite an unprecedented security operation in the Polish capital, with a number of separate incidents reported in the build-up to the match at the National Stadium.
In a statement, police confirmed 10 people have been injured - seven Polish, two Russians and one German - but cited medical agencies in claiming none of the injuries were believed to be life-threatening.
A Warsaw police spokesperson said: "We are still monitoring the situation and trying to identify the supporters involved. The operation is not over from our side as we continue in our attempts to catch those who are causing trouble."
The extent of the injuries are not yet known, although some eyewitness reports suggested at least one of those involved in a brawl between fans could be in a serious condition.
Thousands of Russian fans marched towards the National Stadium to mark Russia Day, considered a provocative gesture by some Poles whose nation was subjected to decades of rule by Moscow during the Cold War.