If the demonstrations on the E3 show floor this week were any indication, the next 12 months will be a great time to be a gamer.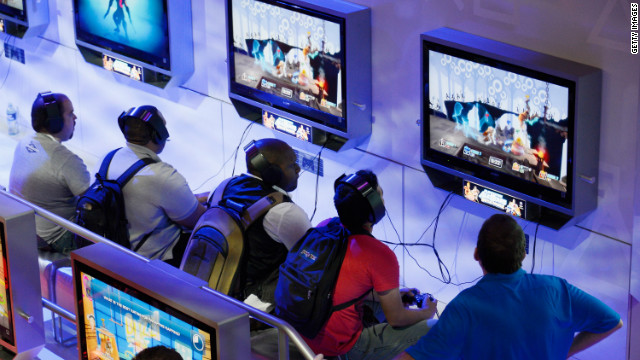 The
Electronic Entertainment Expo (E3)
placed a spotlight on games, not hardware, as developers took the opportunity to strut their stuff. If you asked 15 people at the convention what game they enjoyed the most, you'd probably get 15 different answers. There were so many to choose from.
Without directly talking about next-generation consoles, game makers showed they want to appeal to the core gamer -- and early adopters of next-gen technology -- by producing a slate of exciting and visceral games for release later this year and next.
Rather than try to pick one game that outshone the rest (I just can't do it), I'll instead choose five things that fit very specific categories.
I kept my options to games that I'd never played or seen before in person (sorry, "Borderlands 2").
Biggest surprise
With the announcement of the new Wii U console, Nintendo also revealed 23 games that would be available for the system. One of those titles, "Luigi's Haunted Mansion," turned out to be a lot more fun than I expected from the preview clip.
During a hands-on demonstration, four of my new friends and I took to the mansion to try and defeat a ghost who was sneaking up on us. While the Wii U Game Pad player acted as the ghost, the other four of us had to verbally communicate where we thought the ghost was from vibrations in our Wii controllers.
While the gameplay is simple and the graphics aren't overly done, the excitement generated from the hide-and-seek game was outstanding. By the end, we were all laughing and demanding rematches.
Most amazing experience
During a demonstration of "Doom 3 BFG," I was met with Bethesda Softworks' John Carmack. He proceeded to spin a highly technical story about how 3-D and virtual reality (VR) experiences have not lived up to consumer expectations.
Pinpointing high costs and slow development times as barriers to a good consumer-grade VR experience, Carmack revealed a device called the Oculus Rift, developed by a man named Lucky Palmer. Carmack took Palmer's headset, added some of his own modifications, and created a blockly-looking contraption held together by duct tape.
However, when he placed it on my head and fired up "Doom 3 BFG," the results were astounding. I felt like I was literally standing in the game, with full 360-degree vision and interactivity throughout the scenario. I only had a few minutes inside the game, but the potential and payoff for this VR head mount was truly astounding.
Game I wish I could have seen
There were so many titles to see on the E3 show floor, with a wide variety of genres and appeal for all types of gamers. "Watch Dogs" from Ubisoft was a game that I didn't get to see, but I heard a lot about.
The cyberpunk adventure features high-tech abilities, amazing graphics and fluid gameplay. E3 attendees buzzed about how incredible the demo looked and how smooth the action flowed from moment to moment.
It will definitely be a title worth keeping an eye on.
Game that was the most fun to play
I like comic books, and while I'm not the biggest fighting-game fan, "Injustice: Gods Among Us" is a brand new title from Warner Brothers Interactive that was a blast to play.
Heroes and villains from DC Comics will face off on a field reminiscent of "Mortal Combat" titles. Developers are making some changes to in gameplay to keep it fresh (no block button, no "fatalities"), but the action is crisp and easy while the cinematics are outstanding.
In a match between Superman and the Flash, the Man of Steel gave the speedster an uppercut that literally sent him into orbit before following up with an overhand smash that knocked him back down to Earth. Each character has individual super-moves tied to their comic abilities. This was very cool.
Best "OMG!" moment
In a show filled with titles designed to appeal to core gamers, I saw a lot of explosions, gore and fast action. But one game surprised me by creating a visually intense moment that compelled me to put down the controller and actually say out loud, "Oh my God!"
I was "God of War Ascension" from Sony Santa Monica Studios. This game is the first in the storied franchise to offer multiplayer experiences. While some fans grumbled about a "God of War" game in which they could not play as the iconic Kratos, the action inside the multiplayer demo was as amazing and hardcore as any you'd find in the single-player campaign.
During a match, a cyclops-like monster came to life and attacked us while we were fighting among ourselves. A spear from the Gods fortuitously appeared, allowing me to (turn away if you're squeamish) rip open the monster's face from its nose through its jaw before plunging the weapon into its eye.
If you're an action gamer, you'll understand.