Commerce Secretary
John Bryson
, who was cited in a felony hit-and-run case in southern California over the weekend, suffered a seizure in connection with a traffic accident, the Commerce Department announced Monday.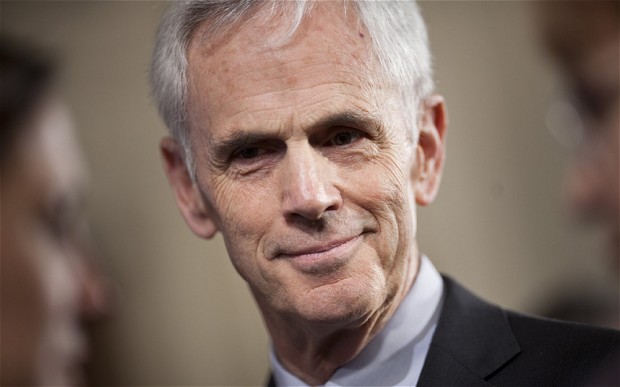 "Secretary Bryson was involved in a traffic accident in Los Angeles over the weekend," spokeswoman Jennifer Friedman said in a statement. "He suffered a seizure."
A Commerce official, speaking on background, told CBS News that Bryson, 68, was given medication to treat the seizure.
Dr. Jacqueline French, a neurology professor at
New York University
's Langone Medical Center and School of Medicine, told CBSNews.com that it's possible for people to have consecutive seizures separated by minutes and that seizures can happen at any age.
A Commerce official, speaking on condition of anonymity, told The Associated Press that Bryson had not had a seizure before. The secretary had a "limited recall of the events" of the incident, the official said. Bryson was back in the office Monday and in touch with his doctors who were monitoring its progress.
Only minor injuries were reported in the two accidents in San Gabriel and Rosemead, Calif., outside Los Angeles Saturday around 5 p.m. PT. Bryson was found unconscious at the scene of the second accident.
According to a police statement, which said the investigation was still in its preliminary stages, there were no signs that drug or alcohol use played a role in the crashes.
Los Angeles Sheriff's Department spokesman Steve Whitmore confirmed to CBS News that Bryson took a Breathalyzer test, the results of which were negative for driving under the influence of alcohol. Bryson also submitted to a blood test, the results of which were pending.
The secretary was hospitalized overnight for observation, according to Friedman.
Bryson was driving his own vehicle without a security detail, the Commerce official told CBS News.
Bryson was allegedly behind the wheel of a Lexus that rear-ended another vehicle waiting for a train to pass in San Gabriel at around 5:05 p.m. PT, according to a statement from the Los Angeles County Sheriff's Department. Bryson spoke with the three males in the other car, then allegedly drove away, hitting their Buick again in the process.
CBS News correspondent Bill Whitaker reports that police said Bryson asked the three men if they wanted to exchange information. He then returned to his car and backed up before allegedly hitting the Buick a second time and driving off. The three men in the Buick called police as they followed Bryson's vehicle from the scene.
Bryson was then "found alone and unconscious behind the wheel of his vehicle," after allegedly causing another accident in the neighboring
city of Rosemead
about five minutes later, according to the statement.
Police said Bryson was acting strangely, Whitaker said.
While Bryson has been formally cited in the hit-and-run, it will be up to the district attorney's office to decide whether formal criminal charges should be filed, police said.
White House chief of staff Jack Lew spoke to Bryson on Monday, press secretary Jay Carney said. Carney said the administration was still in the process of gathering information about the incidents.
"We're obviously concerned about the incident, about the health-related issues that played a role in this incident," Carney said. The spokesman said that Bryson had been an "effective" Commerce secretary.
Carney said the White House was informed of the incident Sunday evening and the president was told about it on Monday morning. Many questions remained unanswered, however, including whether the seizure caused either accident.
The White House
referred all questions about the case to the Commerce Department.
On "CBS This Morning" Monday, before the Commerce Department's announcement, David Axelrod, senior adviser to President Obama's re-election campaign, said he found the incident "concerning."
"This news broke overnight, so I don't really have anything to contribute to that. Obviously it's concerning, but, you know, I'm not going to comment because I don't know any of the details," he said.
Bryson is a former utility executive who was sworn in to lead the Commerce Department in October after easily overcoming conservatives' objections that his pro-environmental views made him unsuited for the job. As secretary, Bryson has played a role as a member of the president's economic team and has worked to promote job creation. He has also advised on energy issues, particularly in the clean energy sector.
The Cabinet secretary was the commencement speaker Thursday at Polytechnic School in Pasadena, a college-preparatory school that his four daughters attended.
Bryson is the former head of Edison International, the holding company that owns Southern California Edison. Bryson has also served on boards of major corporations including the Boeing Co. and the
Walt Disney Co
.
He helped oversee Edison's transformation into a leading wind and solar company and launched a plan to turn 65 million square feet of unused commercial rooftops into solar power stations with enough electricity for more than 160,000 homes.