Roy Hodgson selected the 18-year-old ahead of his more experienced Arsenal team-mate Theo Walcott and Liverpool wide-man Stewart Downing on the left flank.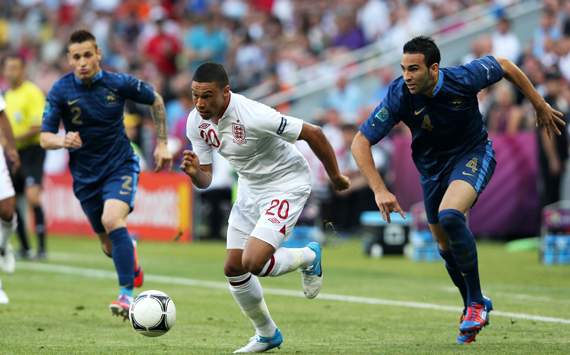 The Three Lions went ahead after 30 minutes from
Joleon Lescott
's header but Samir Nasri's goal nine minutes later pulled Les Bleus level, and the match finished 1-1 after a goalless second half.
Oxlade-Chamberlain
told
ITV Sport
after the game: "Yeah [it was a surprise to be picked], everything's just coming to me as a surprise at the moment!
"But I have to remind myself that I was one of the initial players picked for the squad. I'm here to do this job and, when called, I've got to make sure I'm ready.
"Obviously I'm delighted to get the call and then you've just got to get your mind around the game."
The winger showed flashes of pace and precision on the wing but was left frustrated by the lack of space he was afforded by the
France
defence.
"I think I did okay," Oxlade-Chamberlain admitted. "I think it was a bit frustrating at times for me to get [into] space and do what I like to do and run at people and find space out wide.
"But we like to play compact and I think we had to tonight against a good French team who almost overloaded the midfield.
"Obviously I'm delighted to represent my country and I gave everything, but tonight wasn't about me, it was about the team and getting a good result.
"Against a good French side we'll take a draw, we'll move on and we'll get something from there."
England were not heavily fancied ahead of their first Euro 2012 match, and Laurent Blanc's men had not been beaten in 21 consecutive matches.
"I think, against a good French side, we showed that we can stick with them [and] fight," the former Southampton star added.
"Obviously sometimes - especially in tournament football - you're going to be outplayed and it's just about getting the right result.
"And, obviously, I think we got a good result tonight and obviously we came for a win - like we do in every game - but we'll take a draw. And, as I said, we'll get stronger going into the next game."
Sweden are the next opponents for the Three Lions on Friday night but Oxlade-Chamberlain was coy on his hopes of a second consecutive start.
"I don't know [if I will start], that's not for me to say," he said. "We've got some really good players all around the squad so I'm presuming there will be squad rotation throughout the tournament and the boss will use all the resources he has.
"You've just got to respect that and you've just got to wait for your next chance and take it with two hands."